Marine engineer and shipbuilder join forces to launch new vessel
Fri 11th December 2020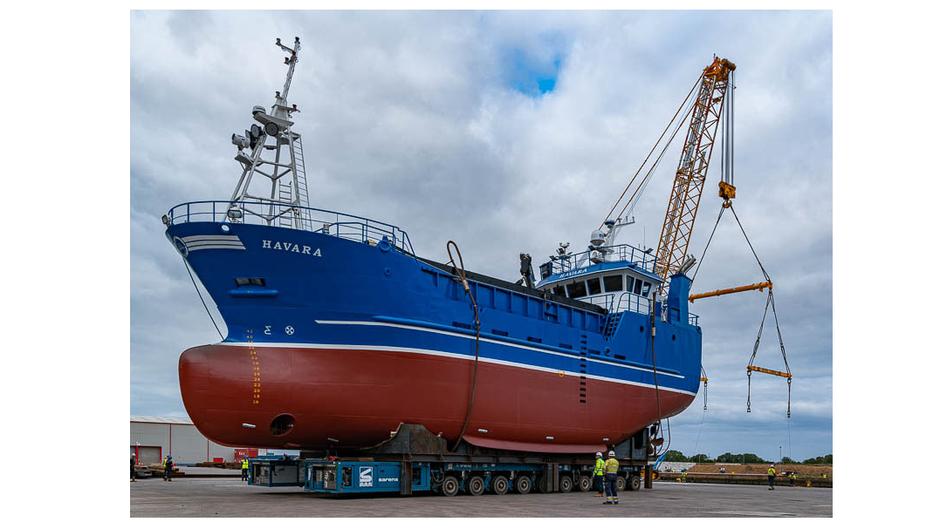 Two Yorkshire engineering companies have defied the challenges posed by COVID-19 to continue surpassing customer expectations.
Hull-based electrical engineers Pearson Electrical and boatbuilding firm Parkol Marine Engineering, which has yards in Whitby and Middlesbrough, recently saw their latest project – the Havara – leave Parkol's Middlesbrough yard.
Parkol has garnered an impressive reputation over the past 50 years for designing and building the highest quality fishing vessels, but Havara is a different kind of project as it is designed not for fishing, but for carrying feed to salmon farms in the Shetland Islands.
The 260-ton, 27m-long twin-screw feed carrier has undergone successful sea trials and is now out at work in the North Sea and Atlantic Ocean, carrying 1.25ton bags of feed to numerous salmon farms around Shetland and the west coast of Scotland.
Havara's owner and skipper Colin Kay, of Shetland LCL Shipping, based on the island of Whalsay, couldn't be happier with his new vessel. He said: "The build took just over a year, and I'm really, really pleased with it. It's the second boat I've commissioned from Parkol, the first was built in 2014, and I wouldn't go anywhere else."
Naturally, the coronavirus pandemic had an impact on operations, although it didn't cause any delays, and both the Pearson and Parkol teams were able to work flexibly to ensure they adhered to COVID-secure rules.
"I couldn't visit because of the lockdown," Colin said, "so all our communications were via WhatsApp and video calls. Despite this, we were still able to build a good relationship and the outcome is just fantastic.
"Overall I've been very impressed with the service and quality provided by both Parkol and Pearson Electrical."
Colin hails from a fishing background – his parents and brothers have all worked in the industry – but his business focuses on feeding fish rather than catching them, and he has more than 20 years of experience under his belt running three feed carriers.
"It's seasonal work really," he explained. "We'll be working Havara seven days a week in summer all around the Shetlands when it's busy, and not as frequently in winter when the fish aren't feeding as much.
"The Parkol designer, Ian Paton, has done an excellent job. Since our last boat was built the feed bags have got bigger, from 1ton to 1.25ton, and we needed to be able to fit them in the hold. The bigger, heavier bags meant we also needed a bigger engine and crane, and we specifically wanted semi-automatic hydraulically operated hatches, which makes the crew's job a lot easier.
"This design means we can carry more cargo, and are generally quicker and more efficient with our deliveries."
Colin runs a five-man crew, with three on board for each sailing, and Havara is fully fitted out with five cabins and top end finishing touches. "The quality of the finish is superb, my crew are all very happy," he added, "I'm expecting Havara will last me for the rest of my working days."
Mark Pearson, Managing Director of Pearson Electrical, said: "We were commissioned to undertake a full electrical installation for Havara. During the lockdown we've made it a priority to keeping our clients' projects moving, while maintaining the safety of everyone involved and adhering to government guidelines.
"Working in tandem with Parkol, we were able to ensure our crews working on electrical installations could continue to operate while keeping a safe distance. This meant we could all still work to our usual high standards we always produce. The pandemic may have caused us to change some of our ways of working but it hasn't slowed us down."
Parkol Project Manager and Director Sally Atkinson said: "We wish Colin and Havara the best of luck for the future. It was an interesting challenge for us to design and build a bespoke feed carrier, and we're all delighted to hear Colin is so pleased with its performance.
"As always, it was a pleasure to work with Pearson Electrical, who were able to continue to deliver their excellent service despite the challenges of the COVID-19 lockdown."
Havara statistics
Length Overall 27.00 m
Length Registered 23.95 m
Length BP 24.25 m
Breadth Moulded 9.70 m
Amidships Depth Moulded 4.80 m
Fuel Capacity 15,000 litres approx (2 main tanks)
Fresh Water Capacity 3,000 litres approx Water Ballast 11 tanks
Maximum Summer Deadweight 350 tonnes approx (assuming 1.00 metre freeboard being accepted.)
Operating Speed 9 knots
Compliment 5 crew
Two off main engines for propulsion: Model – Cummins KTA19-M3 447kw@1800rpm
Photos of the Havara courtesy of Mike Upton