Humberside Scouts Lead the way with The White Ribbon Scouts Badge.
Fri 25th November 2022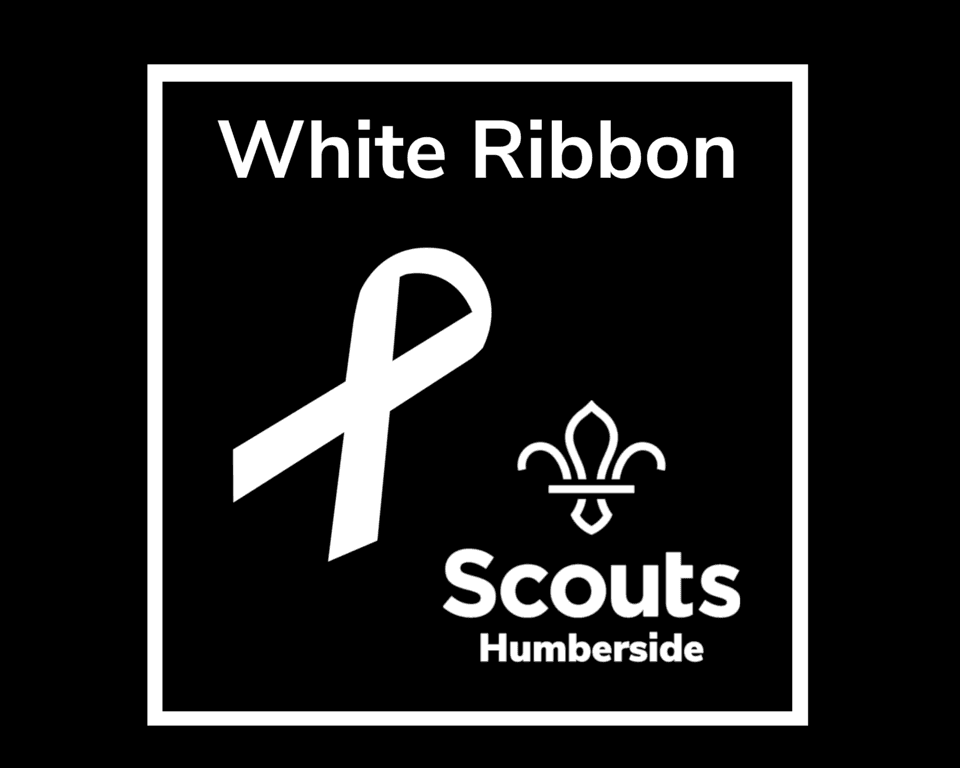 Humberside Scouts are the first Scouts Organisation to introduce the "White Ribbon Scouts Badge".
Jacky Bowes, High Sheriff of the East Riding of Yorkshire, during her year in office wanted to focus on making people aware of Domestic Abuse and Violence against Women and Girls.
On Saturday 26th November 2022 a special event will take place between 11.00 -12 noon at Raywell, to launch the Worlds First White Ribbon Scouts Badge, which Humberside Scouts and Jacky Bowes are excited about. In attendance will be The Lord Lieutenant, Humberside Police, Humberside Fire and Rescue, Hull City and The East Riding of Yorkshire Councils, Local Mayors, Senior members of the Judiciary and so many charities associated with DA & VAWG
The White Ribbon is a global movement of men and boys, working to end male violence against women and girls. It was formed by a group of men in Ontario, Canada in November 1991, as a response to the massacre of 14 female students on a University campus in Montreal https://www.whiteribbon.org.uk/champions/
White Ribbon UK say 'The badge, the first ever of its kind, poses an incredible opportunity for young people to learn about and adopt values that contribute to creating a gender equal society"
White Ribbon UK went on to say . "Thank you to the Humberside Scouting Team and to Jacky Bowes, the High Sheriff of the East Riding of Yorkshire, for making this happen and for prioritising education that promotes positive attitudes and behaviours towards women and girls"
The date has been chosen, as it sits in the 16 days of action of the WR Annual Campaign's 'Call to Action' which starts 25th November (White Ribbon Day) and concludes on 10th December 2022.
Jacky Bowes went on to say "I am thrilled to have had the privilege to work with Gary McCune (County Commissioner) and his Deputy Commissioner, Rachel Macadam to develop the badge and the criteria. We all believe that this is a fantastic opportunity and method to communicate to young people, about what are appropriate and inappropriate behaviours and about healthy relationships"
Gary McCune said "We all need to be more aware and help drive changes that influence positive attitudes and behaviours from an early age. We need to call out inappropriate behaviours and have those difficult conversations.
As Scouts we have the opportunity to share the importance of this message with all of our young people and together, we hope that we can encourage our members, both young people and adult volunteers, to live by our Scouting Values. Our participation in this crucial issue will mean that together we can help develop a call to action to help champion lasting change.
As part of our partnership with White Ribbon UK we have created a new badge for our young people which has appropriate criteria to suit the different ages of young people in The Scouts".
It is hoped that the National Board of Scouting Trustees, will make it a nationally recognised badge.
Jacky went on to say "I want to use my year in office to help reverse the trend of these unacceptable behaviours but also ensure that we have the mechanism to provide the right support to those in need".