East Yorkshire devolution talks - Live Q&A
Thu 14th September 2023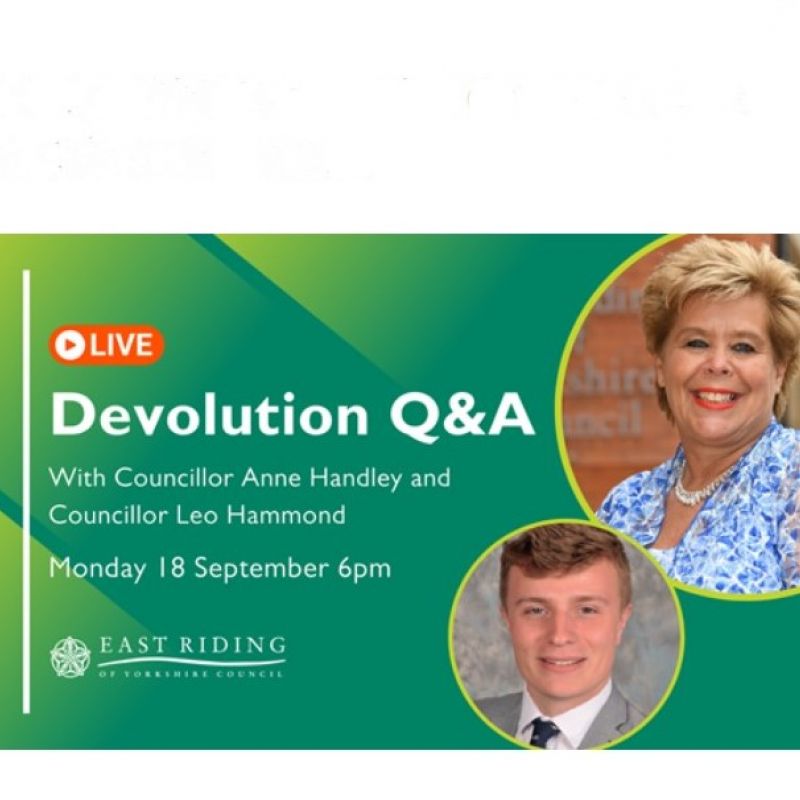 Residents can find out more about East Yorkshire devolution talks in a facebook live Q&A session with East Riding of Yorkshire Council leader Councillor Anne Handley and cabinet member Councillor Leo Hammond.
East Riding of Yorkshire Council and Hull City Council are currently working together to explore and secure a devolution deal for East Yorkshire that would bring significant social and economic benefits to the whole region.
The Facebook Live event will take place on Monday September 18 at 6pm, when Cllr Handley and Cllr Hammond will give the public an update on the talks and address some common questions about a potential devolution deal.
Residents can submit questions in advance via the council's Facebook page or by emailing social.media@eastriding.gov.uk.
East Yorkshire is the last part of Yorkshire without a devolution deal, while councils south of the Humber are currently in talks on their own deal for "Greater Lincolnshire".
On becoming the new leader of East Riding of Yorkshire Council in May, Councillor Anne Handley made it her main priority to make progress on devolution talks, and secure a good deal for East Yorkshire.
Cllr Handley met with her Hull City Council counterpart, Councillor Mike Ross, and the two agreed to enter discussions with the Government on the creation of a mayoral combined authority for East Yorkshire.
"As the only part of Yorkshire without a devolution deal, we must work together in the interests of our communities and make sure we are not left behind," said Cllr Handley.
"A devolution deal would bring massive financial investment to the area and huge benefits for the people of the East Riding and Hull, especially around improved infrastructure and transport'.
"There is still a long way to go in the process, but we are pushing for the best possible deal."
The Government's Levelling Up White Paper, published in 2022, set out three levels of devolution.
Level 3, the mayoral combined authority, offers the most devolved powers and increased funding. It also gives local residents the power to set the direction by electing the leader of the deal, the mayor, offering the region and its residents the greatest say in their own future.
But a combined authority for East Yorkshire does not mean the two councils would merge, only that they would collaborate on certain strategic issues that affect everyone in the region.
The councils and their day-to-day responsibilities would remain separate, and local services would not be compromised.
Cllr Handley stressed that "combined authority" was something of a misnomer.
"I don't know why they put the word 'combined' in there. We are not combining with anyone at all. We will be East Riding of Yorkshire Council and we will run our services like we always have and always will. And Hull City Council will do likewise."
So what happens next?
The current stage of negotiations is expected to continue into October.
If the councils and the Secretary of State for Levelling Up reach an agreement, a devolution deal could be announced in the Government's Autumn Statement.
Early next year, there would be a period of formal public consultation, giving residents and stakeholders the opportunity to have their say on the proposed deal.
Should everything proceed according to schedule, a devolved authority could be established by April 2025, with a mayoral election held the following month.
Cllr Handley said: "There is still a long way to go in this process, and we will be bringing our residents along with us every step of the way and give them the chance to have their say.
"The next few weeks and months will be crucial for East Yorkshire, with the outcome of these talks potentially shaping the destiny of the region and its people for decades to come."