Countdown is on to JORVIK's most ambitious livestream
Wed 17th February 2021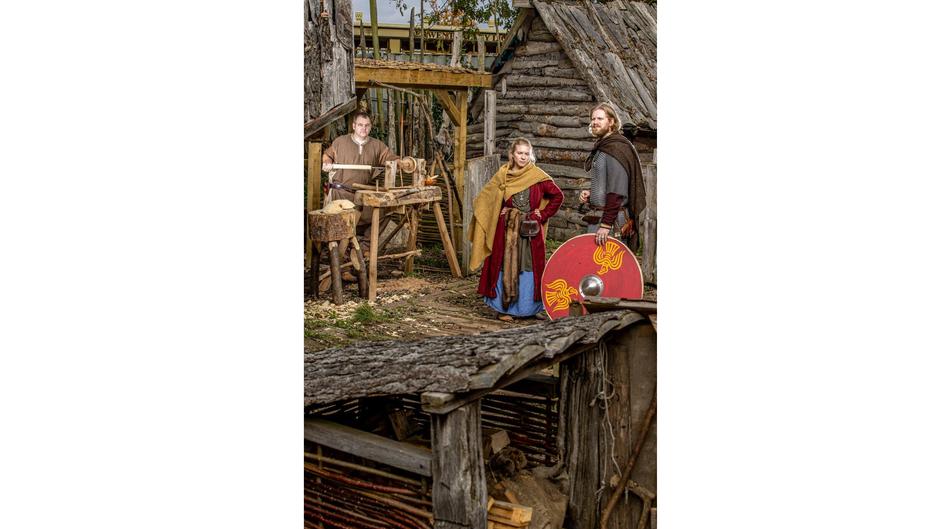 Countdown is on to JORVIK's most ambitious livestream
That Live JORVIK Viking Thing, Saturday 20 February 2021
An afternoon of livestreaming is the challenging task facing the team behind the online festival, That JORVIK Viking Thing, this Saturday (20 February) when they host a truly international and extraordinary Norse-themed broadcast from 12 noon.
The event is one of the highlights of the world's largest ever online Viking festival, being organised this week by York's JORVIK Viking Centre, as an alternative to their usual February half term event. Introduced by York Mix Radio's Ben Fry, and members of JORVIK Viking Centre's interpretation and collections teams, Lucas Norton, Rachel Cutler and Becky Sampson, the day will mix live presentations and Q&A sessions from JORVIK, links to other Viking attractions around the world – including Dublinia in Dublin and Lofoten Viking Museum in Norway.
York's Viking village at Murton Park will also feature in the day, with a live wood-working project being revisited throughout the broadcast, and some pre-recorded films being worked into the show. "We were fortunate to be able to film a host of videos for the Thing whilst lockdown restrictions were lifted in the autumn, including our fun film, Arnor's Adventure, and our daily chapters of the Saga of Revr the Sly, which have been released each day during the Thing," comments event manager, Gareth Henry. "We had hoped to be able to broadcast this day live from a fully populated Viking village; sadly the Norns* were against us, but we are pleased that we can still manage some socially-distanced filming from the village." [Wood working at That JORVIK Viking Thing]
The livestreamed day is the penultimate event in That JORVIK Viking Thing's programme; international Nordic folk musician Einar Selvik – known for composing the music for the Vikings TV show and the Assassins Creed: Valhalla game soundtrack, as well as for his number 1 album with his band Wardruna, released in January 2021 – in conversation with music journalist Alexander Milas, and performing acoustic versions of some of his songs. Tickets cost £15, available from jorvikthing.com
A last-minute addition to the Thing's programme will see Einar Selvik's bandmate, Lindy-Fay Hella, joined by Christina Oakley Harrington PhD – founder of the London bookshop, Treadwells – and herbalist Johanna Elf talking about how scents, plant essences, myths and storytelling. The free livestream takes place at 8pm on Friday 19 February, accessible through jorvikthing.com
So far, That JORVIK Viking Thing and its educational preview during Schools Week, have generated over 20,000 visitors to the website, with over 2,500 hours of video content watched already. Some of the most popular livestreams – including the fun Poo Day – are still drawing audiences, with Twitter flooded with images of home-made Viking worm-infested poo. The most popular video is a free 360 degree tour of Viking-age Coppergate, which can even be viewed using a VR headset for a completely immersive experience.
For more information, or to access the vast-array of video on demand resources, please visit jorvikthing.com. The online festival runs until Saturday 20 February.
Photo credits:
Photo of Lindy-Fay by Raina Vlaskovska and May Husby
Photo of Einar Selvik by Arne Beck
The two photos of Vikings by JORVIK Group