BRAKING good news at St Mary's
Thu 19th November 2020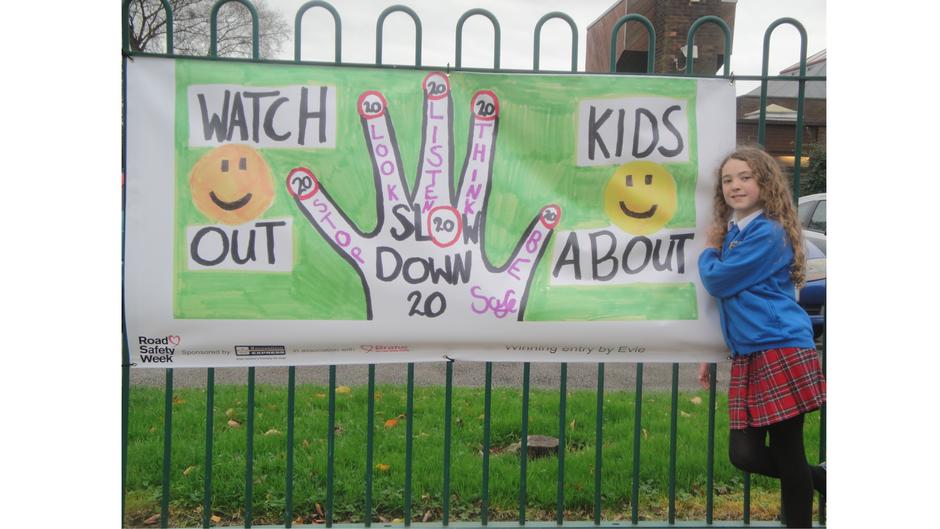 Evie is a Winner
Nine year old Evie Sugdon, a pupil at St Mary's Church of England Primary School in Beverley has won a national competition run by Recognition Express to design a banner for this week's BRAKE road Safety Week(16 – 22 November 2020).
As part of its sponsorship of the BRAKE road safety charity, each year promotional products, badges and school uniform specialist Recognition Express invites primary school children aged four to 11 to create a design for a road safety banner based on that year's BRAKE Road Safety Week theme, which for 2020 is 'No Need to Speed'.
Evie is one of just 13 winners chosen from hundreds of entries received from children across the UK. She received a personalised trophy along with a large-scale printed banner featuring her design to display outside St Mary's during Road Safety Week.
She was presented with the specially designed 'star' trophy by teaching assistant Wendy Copley who is also the school's road safety champion. Said Mrs Copley: "Evie was thrilled when I delivered the banner and trophy to her during the maths lesson! We actively take part in Road Safety Week every year, and although this year is more challenging for everyone, the Junior Travel Ambassadors are constantly thinking of new ways to teach road safety and promote sustainable travel."
Said director of Recognition Express, Hull and East Riding Jan Chidley: "It was such a shame that I couldn't go into St Mary's to present Evie with her trophy and banner in person, but of course that wasn't possible this year with the lockdown. I was very impressed with her design and I am sure her work will be much admired next week when the banner is put up outside the school.
"Whilst our cashflow is tight as a result of the lockdown, we believe road safety is very important, and are committed to keeping people safe. Our relationship with BRAKE is long standing and we didn't want to let them down this year. Road Safety Week aims to inspire thousands of schools, organisations and communities to take action and promote road safety awareness during the week and beyond and it is a privilege to be involved. Our competition is a fantastic opportunity to engage primary school children and help establish good road safety sense for years to come.
"We are always impressed by the creativity and quality of the designs sent in each year. I hope that our competition helped to restore a sense of normality for the children this term."
Road Safety Week: How well do you know The Highway Code?
https://thebikestoragecompany.co.uk/road-safety-quiz/