Beverley Housing Charity - Affordable Living for those in retirement
Fri 8th September 2023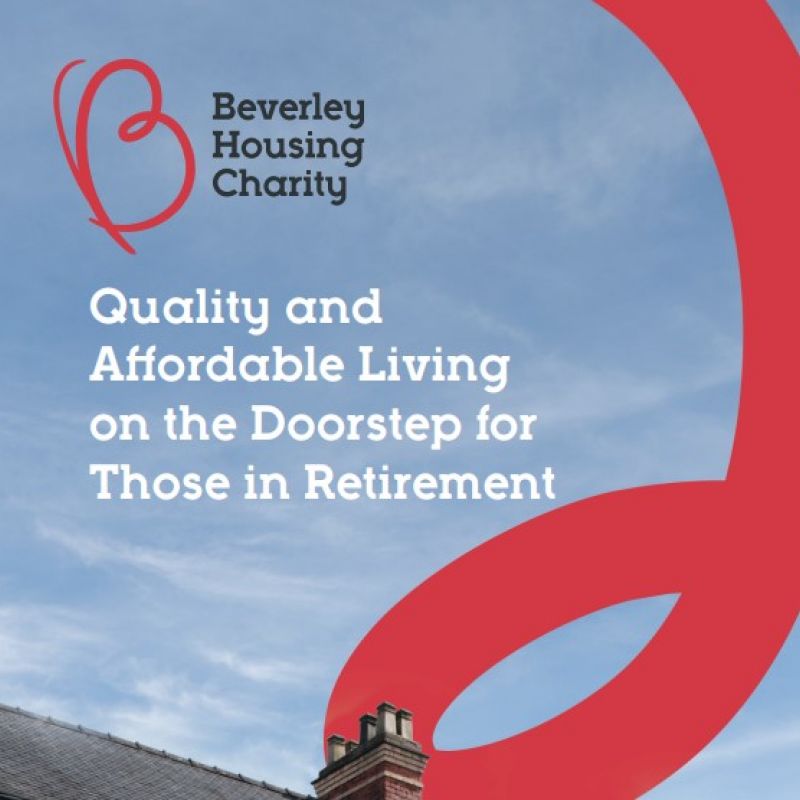 Although housing issues frequently make headlines, it's remarkable how one of East Yorkshire's oldest charities often goes unnoticed by most Beverlonians. Despite its contribution, which has led to savings of over £1.2 million for its beneficiaries over the past 5 years, there's still a lack of awareness among many locals about its invaluable service.
Beverley Housing Charity is undergoing a transformation from being Beverley's "best-kept secret" to becoming a national leader in housing. The charity, previously known as Beverley Consolidated Charity since 1912, now adopts the name Beverley Housing Charity. Andy, the recently appointed CEO of the Charity, spoke to us about its history and impact.
What is the purpose of this charity?
The mission of Beverley Housing Charity is to assist residents of Beverley, who have; lived in the town for a decade or more and have reached retirement age, have a housing need and don't own their own home and struggle with the costs of private renting.
The Charity owns over 160 properties in Beverley, including 137 Almshouses - a historical form of housing dating back to 999 in the UK, and were originally developed to provide housing and financial support for the disadvantaged.
Fast forward to 2023, Almshouses remain the oldest form of social housing in the UK, maintaining their independence under the governance of local boards of trustees. These boards collaborate with the charity scheme to offer housing to those in need within the charity's operational area. With more than 1,600 Almshouse across independent charities in the UK, Andy Barber, CEO of Beverley Housing Charity, explains: "Beverley is fortunate to have Beverley Housing Charity as part of the housing mix. Through a combination of remarkable philanthropy, astute business acumen, and generosity of time, our charity, originating from a collection of smaller Almshouses across Beverley, is well-positioned not only to improve our existing properties but also to expand our offerings for residents."
The charity's assets are spread throughout Beverley, ranging from new developments at the town's entrances, to historic buildings like Ann Routh on Keldgate and Charles Warton in Minster Moorgate. One prominent site, Maison's de Dieu, boasts 14 independent living bungalows surrounded by wonderful gardens. Built in 1934, this site replaced the older Les Maison's de Dieu on Lairgate, constructed in 1823.
Why Beverley Housing Charity?
Regarding the new identity, Andy says: "We wanted a working name that is clear and simple, aiding us in communicating with both current and future beneficiaries. Our homes have supported people for over 200 years, and the land we currently own and have sold in the past has contributed to the wellbeing of Beverley residents, as seen through our allotments rented to Beverley Town Council and the land sold to the NHS for the Beverley Community Hospital.
"We have also granted funds to other local charities that assist our target beneficiaries, such as Cherry Tree Centre Beverley Community Lift, Men in Sheds, and other wellbeing activities for retirees."
"It is our aim to preserve our history just as we do with our properties. Therefore, Beverley Housing Charity serves as our working name, while Beverley Consolidated Charity remains our registered name with the Charity Commission."
What are the future plans?
The charity continues to invest in its existing properties, undertaking various refurbishments for individual homes and communal areas. Recent resident feedback, averaging 4.5 / 5, attests to the quality of the properties.
Andy continues: "We are delighted with the feedback from residents across our properties. Like all organisations, there is always room for improvement. However, the opinions of our residents through surveys and the newly formed Residents' Committee ensure that residents' voices drive our thinking, design, and services."
The Charity's largest investment lies in the restoration and redevelopment of the Ann Routh building in 2024-2025. This listed building currently houses 12 independent flats. The charity will also relocate its office to enhance accessibility for beneficiaries, remaining within the town centre and generating new revenue for the charity.
Andy adds: "The Charity board has been highly supportive of property investments during my tenure as CEO. Our growth plans are founded on ensuring our current homes meet high standards first, and the feedback we receive suggests we're nearly there!"
Who resides in the Almshouses?
Residents, much like the community, come from diverse backgrounds, ranging from 66 to 96 years of age, with an average age of 77 across all homes. The key criteria include residing in Beverley for a minimum of 10 years, facing financial need, inability to afford market rents, and capacity for independent living without owning a home.
Andy clarifies: "While we have a compassionate team, we don't provide care or support packages. Residents must live independently or have a support system in place. Unlike supported living, we provide the property, maintaining the asset, while residents make it their home through decoration and personal touches.
"After inspecting all our homes in the last 3 months, I can say that I would be content residing in most of them. Those not meeting our standards constitute less than 5% of our entire estate, and they are currently under redevelopment."
How much does living in an Almshouse cost?
The cost varies based on location and size, but the average maintenance fee is at least 40% below current market rates for comparable properties.
Andy emphasises: "We prioritise providing affordable quality rather than inexpensive homes that are poorly maintained. Each property undergoes reinvestment planning for energy efficiency, kitchens, and bathrooms."
Traditionally, Almshouses have been among the most affordable properties. Some organisations, however, have faced risks due to imbalances between properties and charity operations. The Beverley Housing Charity's Board diligently collaborates with its team each year to ensure the right balance, safeguarding the charity for the next 200+ years.
Current availability
Property allocation depends on need, and while some properties become available throughout the year, the limited turnover rate results in a relatively small volume of available units at any given time. The Charity is exploring several new developments aligned with the needs of its beneficiaries.
If you or a relative meet the criteria, how can you apply?
E-mail charity@beverleyhousingcharity.org,
call 01482 881052 or visit