All set to make this Christmas a cracker
Fri 11th December 2020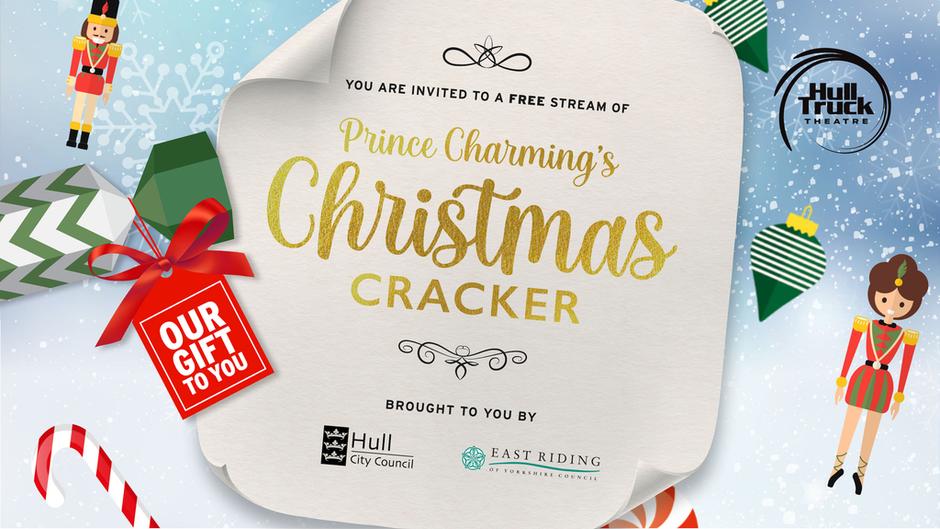 A gift to residents as local councils join forces with theatre to bring festive performance to homes in Hull and East Yorkshire
Exciting new partnership as Hull Truck Theatre teams up with Hull City Council and East Riding of Yorkshire Council to bring Christmas show for free to local residents, schools and care homes;
The premiere of Hull Truck Theatre's Christmas show, Prince Charming's Christmas Cracker, written and directed by Mark Babych, will be streamed on YouTube at 7pm on Tuesday 22 December and made available to watch on-demand until early January;
From invitations sent with Christmas Day food parcels to online workshops for local schools, the partnership aims to maximise reach and the impact of theatre.
Save the date for the hottest ticket in town as Hull Truck Theatre's Christmas performance gets set to spread joy to residents across Hull and East Yorkshire thanks to an innovative partnership with Hull City Council and East Riding of Yorkshire Council. From festive music to karaoke, unexpected guests and lashings of humour, it will be a 'do' like never before, with what is hoped to bring a dose of excitement and happiness at the end of this challenging year.
If ever there was a year that needed Christmas, it's this one and Prince Charming's Christmas Cracker has it all. Every household is invited to join Prince Charming from the comfort of home at 7pm on Tuesday 22 December as he throws open the palace gates for his annual Christmas ball, a festive fairytale adventure sprinkled with surprises, sparkle and a hint of magic.
Hull Truck Theatre has welcomed support from its two local authorities to bring one of the most loved Christmas traditions to residents, care homes and schools across Hull, the East Riding and beyond in an uplifting shared theatrical experience later this month.
Rehearsals for Hull Truck's new Christmas show, written and directed by the theatre's Artistic Director Mark Babych, were just about to begin when the country went into its second national lockdown. With continued restrictions, uncertainty and acknowledgement of the impact art and culture has on wellbeing, the theatre's two local authorities have stepped in to not only ensure the show can go on, but that it can be enjoyed by households across the region and beyond, connecting families even if they're not watching from the same sofa.
An interactive experience, with behind the scenes footage and unique backstage views, will make the streamed performance different to watching a film or show on TV. After the initial streaming on Tuesday 22 December, the performance will be available on demand until 3 January, with schools, care homes and community groups encouraged to join in the festivities, with accompanying workshops and resource packs available.
Janthi Mills-Ward, Hull Truck Theatre Executive Director, said "This is the first time we've worked together with our two local councils to fund something like this and we're thrilled to be able to offer residents a magical Christmas experience at the end of such a challenging year.
"Engaging in arts and culture has been found to be associated with increased well being and we can't thank East Riding of Yorkshire Council and Hull City Council enough for their support. We hope this innovative collaboration brings a little joy and happiness to residents, schools and care homes, with a shared experience for families and friends to enjoy together, whether as seasoned or first time theatre goers.
Councillor Stephen Brady, leader of Hull City Council, said: "It's been a tremendously difficult year for all of us. Christmas is a special time, but sadly this year certain Christmas traditions cannot be celebrated in the usual ways.
Going to the theatre, whether it be to see a pantomime or a retelling of one of our favourite Christmas tales, is, for many people, one of the highlights of the festive period.
"Credit to Hull Truck for ensuring families and residents can still enjoy and experience the fun of the theatre this Christmas. Hull City Council is delighted to be able to support the performance and we wish all residents a merry Christmas and a happy New Year."
Councillor Richard Burton, leader of East Riding of Yorkshire Council, said: "I'm delighted we've been able to contribute to this exciting project, which we see as vital in engaging with all our local audiences in these challenging times.
"Whether residents at home, schools, or residents in care homes, we all need the uplift that the performing arts can bring, and the connections it can make between us all. I'm really looking forward to seeing what promises to be a real cracker of a show!"
Janthi added: "The streaming has been created to encapsulate those magical moments of a theatrical experience as opposed to a film or television programme, the production will give people the opportunity to enjoy the show together, even if they're watching in different homes. Whether you want to get dressed up and recreate the theatre experience at home, create a den or stay cosy on the sofa, we hope the live streaming offers a festive experience for the whole family to enjoy.
"Theatre is a cornerstone at Christmas alongside this exciting project we have been working in partnership with KCOM to release four short family Christmas films in the run up to Christmas that are set across Hull and East Riding as we continue to connect friends, families and communities through the magic of storytelling."
Mark Babych, Artistic Director at Hull Truck Theatre said: "Christmas is a time of year when fairytale heroes and villains are a firm feature in the plays and pantos so many of us love to experience as part of the festive calendar. Covid-19 is certainly this year's villain but this year we have so many heroes to thank.
"We're delighted the show can be enjoyed by audiences across the region and that we can continue to support artists and freelancers in what's been an incredibly difficult year for the industry."
Can't make 22 December? No problem. The performance will be available for residents and care homes to watch from 23 December to 3 January, while schools and community groups will have access for the week commencing 4 January with an accompanying resource pack.
Tickets aren't required, the YouTube link will be made available on the Hull Truck Theatre website and social media channels.
Ticket holders due to attend the performances at Hull Truck have been contacted and offered a full refund.
Save the date, get your outfits, snacks and drink at the ready and get set to enjoy a most magical performance. The question is, in 2020, will Prince Charming and Cinderella finally get their fairytale ending?
Photo : (l to r) : Janthi Mills-Ward, Laurie Jamieson, Councillor Stephen Brady, Joanna Holden, Louise Willoughby, Rachel Dale, Councillor Richard Burton, Amelia Donkor, Mark Babych
Photo Credit Karl Andre Photography