A Strange Way to Complete the Wolds Way
Fri 4th September 2020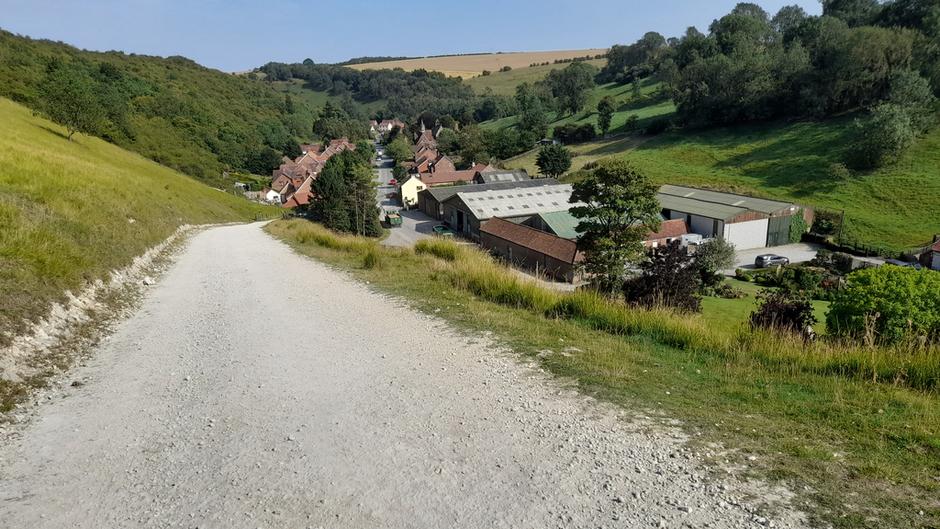 More assiduous readers might recall that we left our journey along the 79 miles of the glorious Wold Way, at Goodmanham, back in the early spring just as the pandemic struck.
I was then some 24 miles into my trek, aiming to reach the sea at Filey in 4 more days, all to be done and dusted by the end of March. The weather looked set fair, I was reasonably fit, what could stop me?
Some 6 months on after safely restarting in high summer, I finally finished it. It was still to take me the 4 days envisaged, yet it turned into rather more of an adventure than I had bargained for with searing heat, a mosquito infested camp and herds of frisky cows who seemed determined to flatten your narrator.
It is almost impossible to get lost on the Wolds Way as signs are frequent and clear, but even I went twice astray. Once, above Sherburn having to hack through nettles.
Each day's walk should be done in linear fashion. It is possible to use public transport from Beverley, as I did when our family car went to the great scrapyard in the sky just as my walk resumed. The more adventurous can try to complete it over consecutive days, but this may require sleep-outs en route.
Day 1. Goodmanham to Millington - 13 miles
This is a marvellous walk full of natural beauty, tranquility, fine architecture and historic interest. By using EYMS buses from Beverley to Market Weighton and returning from Pocklington, you extend the walk by some 3 miles, while avoiding the need to take 2 cars. Moreover, you get the opportunity to explore 2 fine towns often ignored by travellers along the busy A1079.
If using cars, begin in the village centre by the church, and if by bus, enjoy a lovely walk along the former Beverley to York railway, passing evocative St. Helen's Well. This will bring you to Goodmanham, a beautiful place of great significance for the birth of Christianity in the north some 14 centuries ago.
Begin just to the rear of All Saints and the Wolds Way descends beneath the former Driffield to Selby railway. It is strange, how, despite being bracketed by 2 lines, Goodmanham had no station. Note the springs bubbling from the trees on your left up the slope - Goodmanam has a long history of spirituality.
The walk over to the main road is pleasant with expansive views. There is a picnic site and snack bar at Towthorpe but nicer spots beckon. Cross the A614 with care, following a clear route to Londesborough, before you arrive in the fine grounds of the former stately home.
These are a privilege to explore, and access to the best parts are welcomed by the owners through a gate in the wall by the church. You enter into a veritable wonderland, and I venture to suggest that the eighteenth century niche here is one of the least known, most beguiling spots in all Yorkshire. I picnicked on the grand steps before discovering in the delightful estate villages that the phone box sold plants. I managed to transport a hellebore home.
Now from Londesborough, take the quiet road towards Burnby, heading over to Nunburnholme on paths after a pleasant mile of tarmac. At the dip in the road, you may enter and roam open access land at dramatic Cleaving Coomb where red kites glide effortlessly on the thermals.
More kites soar above the glorious ancient village of Nunburnholme, which was once the site of a nunnery and still home to the lovely medieval church of St. James, where noted naturalist, Francis Orpen Morris, was rector.
Start to head north over well-wooded ground to cross the B1246. Those who need to return by bus should now go left down to Pocklington just beyond Warrendale farm. You might catch the World Peace Cafe, open 2 pm to 5pm, in the marvellous Buddhist centre at Kilnwick Percy that I had the pleasure of visiting it with a group of smashing Y3 pupils from Beverley St. Mary's School last September. Those with cars, can proceed to Millington by the Way and link path down to the popular cafe and pub.
Day 2. Millington to Wharram le Street - 14 miles
This offers even more beautiful countryside to explore. The ridge views over Millington Dale are exceptional and the dry valleys around Huggate and Thixendale remain glorious in all seasons. If you use the bus to Pocklington you will have 2 extra miles to reach the Way at Warrendale. This is a fine walk in itself, with great views back to town and over the Vale of York.
Walkers are welcome in scenic grounds such as the lake, church and mansion at Kilnwick Percy. It is generally easy walking from Warrendale to Huggate with just 2 deep valleys to negotiate. Above the aptly named Sylvan Dale, I was again thrilled by the soaring kites.
On the northern side, I met my first herd of cows who thankfully were not too concerned by me, but nonetheless I always give them a wide berth and have my trek stick poised for defence! Sadly, there have been a number of cases of people being injured or worse by herds, so like Falstaff, 'discretion is the better part of valour'.
Just off route as you approach Huggate, you will find the extensive prehistoric earthworks of Huggate Dikes. Try yourself to discern why they were constructed as nobody knows. The Way avoids the centre of the village, but it is an easy stroll up to the fine pub, handsome church and farm cafe.
The Way now heads north to Fridaythorpe, passing through splendid Horse Dale and up Holm Dale. At the rim of the former sits one of the poetry benches that dot the Way. Previously, you could leave your own verse in a book but sadly this seems no more. It is a pity as I was going leave these lines...
Leaving the tides of Humber
Where Marvell once complained
That early March
Few could have foreseen
My walk of 6 days
Over rippling Wolds
Just as Andrew
Was left, eager but frustrated
By his Coy Mistress
For 6 long months
So too, was I
By Covid-19.
Fortuitous, maybe, that the book has gone! Fridaythorpe is blessed with a shop at the garage, which was ideally located as buying water on a scorching day in early August was vital for me. I had a picnic on the fine village green and enjoyed the exterior of beautiful, rustic St. Mary's. Now follow a rollercoaster 3 miles to Thixendale through typical high Wolds country. I was feeling smug that hot day, having walked so far, when a former teaching colleague, Peter Cork, shot past me - he was running much of the Way!
Thixendale is rightly seen by many as the most delectable village in the region, being surrounded by numerous (perhaps sixteen) dry valleys, a great pub, and a shop that seems frozen in time. The path over to Wharram rises steeply from the village. In the cooling breezes of early evening I watched more kites, and more perturbingly, more frisky cows.
The evocative deserted village site of Wharram Percy was not directly on the Way, but now it is a designated, highly recommended, alternative loop. The ruined church and outlines of former homes, are very striking. Here, I had my most frightening encounter with cows, this time only a nifty sprint along a hedge saved me from a group of seemingly aggressive ones.
The Way takes you through Wharram le Street, and for those church lovers, you should not miss the fantastic Saxon tower of another St. Mary. At the day's end, either a car awaits you or you can walk to nearby North Grimston for the evening bus to Malton with trains back to Beverley. Or you might prefer a secluded camping spot, as I did. A glorious place to spend a warm summer's night, and the only drawback - ravenous mosquitos. One week on and I am still covered in painful bites.
Day 3. Wharram le Street to Sherburn - 14 miles
This is perhaps the least frequented stage of the whole Way, with fabulous views throughout. Leave Wharram by the chalk lane that heads toward Duggleby, then following paths through the wooded Settrington estate. You will see fantastic panoramas over the Derwent Valley.
The route continues to Winteringham, where a sparkling chalk stream provides a great place for cooling off and having a little wash. The Way wends past the superb church run by the commendable National Churches Trust. The route rises through a steep incline to reach the scarp ridge, running 6 miles to Sherburn, with extensive views over the Vale of Pickering.
I had hoped to make Filey in a day from here, but 82°F put pay to that. So I was doubly relieved at Sherburn, buying much water and taking the bus to Seamer to connect with the train back to Beverley. Sherburn has shops, pub and cafe - and that precious regular bus service.
Day 4. Sherburn to Filey Brigg - 18 Miles
A lengthy final stage, yet my feet were propelled by the tang of the sea and journey's end. Using the train to Seamer and bus back to Sherburn, a week later I was back on track. Rising steeply from the village, the Way tracks along the scarp through woods and fields.
Ganton came as a surprise, a fine village set back from the A64. I was delighted as the vicar let me have a quick look around impressive St. Nicholas, my first rural church visit this year.
Passing eerie RAF Staxton, the walk becomes very scenic with long, sweeping dry valleys. I lunched above delectable Cotton Dale. Stocking Dale is especially attractive; this late summer it was bramble-choked and poppy-splashed just like a Monet painting. The whole route is bursting with juicy blackberries. I have relished them since boyhood and devoured pounds along the Way.
Arriving at attractive Muston, you must walk alongside the busy A1039 before taking the path over to Filey. When you pass the train station and head down to the Cobble Landing, you will finally reach the sea.
The Wolds Way officially ends where the Cleveland Way begins, on the cliffs to the north and looking down on the drama of Filey Brigg. I wanted to mark my journey by scrambling to its end, but sadly a high tide prevented this - I will thus be back!
And so, this oddest of journeys, in this most troubled of years, was over. I have sweet recollections of the beauties and tranquility along the route that will last a long time… as will the more troubling ones of bovine encounters! Do go soon and have your own adventures.
Stay Safe, Be Healthy, Keep Walking.
Ian Richardson