A new twist at White Rabbit
Thu 7th October 2021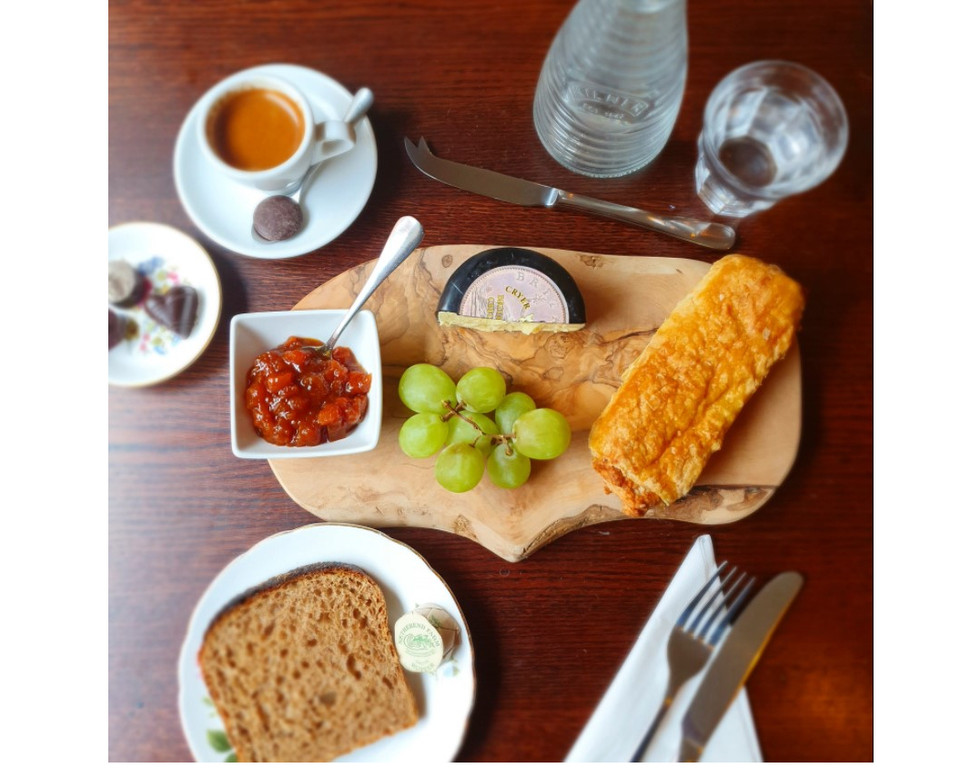 A New Twist
White Rabbit Chocolatiers has brought out a new lunch menu with the aim of showcasing 'best of British' and well sourced Yorkshire produce.
When we opened our first chocolate café in Winter 2016 we wanted to create a beautiful venue for people to relax and indulge in our finest chocolates alongside a classic coffee house offering, but the tricky bit was always going to be stepping out of our comfort zone of sweet treats and hot drinks and into the world of savoury food. White Rabbit was always going to be a 'chocolate café', what else could you expect from a chocolatiers, so from launch we kept our range tight, focusing on what we knew best. 'There are plenty of other places to get food', we told ourselves, 'so we can be the place to get dessert'.
But over the years we have learned some valuable lessons. The first was once you start serving hot chocolate some people are going to want coffee, and that is what led us to open a café in the first place. The second was once you start serving coffee and café some people are going to want savoury food. We pride ourselves in being customer led, so we quickly got our thinking caps on. Primarily we wanted to stand out as a place to get something a bit different, so we designed a fresh concept of different 'Bruchettas', essentially posh things on toast, back then on Amy's home-made rye bread. Each one was finished with a drizzle of our own Chocolate Vinaigrette which is so popular we still sell in glass bottles now. We packaged this up with our wonderful desserts as a 'chocolate lunch' deal which snowballed to the point of recruiting a chef in 2018.
Now, it's important to reiterate we naturally evolved to this point. With each new stride the business took we allowed ourselves to look forward and move on to the next challenge. With a new chef in hand we even started making breakfasts; Eggs Benedict and Croque Monsieur, all made with our classic ethos of quality, fresh ingredients. It was around this point our issues started to become clear to us. We were always working in a tight space, but as the menu expanded the space seemed to shrink. It was all fine serving half a dozen breakfasts in the morning, but as word of our delicious breakfasts spread, we started to hit our breaking point. I still remember Saturdays when people would arrive early and queue to order their bacon and eggs before the rush. People in the know were happy to sit waiting for an hour and we scrambled to produce order after order, but eventually the wait time became unacceptable. Alas, our breakfasts, better than any in Dubai a regular businessman used to tell me, were not to be and in order to protect ourselves from the wave of complaints we had to cancel our offering. We didn't know it yet, but this was the start of another tough journey which lead us to where we are now.
The breakfasts got too much, but eventually the Bruchettas got too much too. We hastily re-designed to an easier menu, build your own toasties was the next concept we tried. But, again, making sandwiches to order is easy even in a small space if it is a few at a time, but in our cramped space with only 4 slots in our toastie machine, rapid service became impossible. We moved over to pre-making a set selection of toasties to cut out some production time, but then we lost our chef, and with covid around at this point recruiting a new one stopped being an option. So we sourced some pre-packed sandwiches, still made locally to be in keeping with our ethos, but the difference in quality from our usual offering was clear. By now we had re-opened but with far fewer staff and there wasn't enough time in the day to think. We became unconfident with our menu, dreading those coming in just for lunch, and I cannot say that we didn't receive a fair share of criticism. After one particularly hurtful complaint, and more staff on their way out the door, we finally said enough is enough and dropped everything else to focus.
Since the end of lockdown it has been harder to tempt people in, so it became clear to us: either we stop doing food altogether, or we smash it out the park. On the one hand we have much fewer staff than we used to, but on the other we have learned that coffee and cake just doesn't cut it anymore; so we set about designing something our small team can handle, yet something that won't just satisfy people, but be a delight, something to relax and indulge over in our beautiful venue.
Inspired by the wonderful food in our region, British charcuterie, but also the culture of indulgence and sharing that chocolate is so good for, we have sourced rare and speciality delights to showcase some of the best produce we can get our hands on. The idea is to serve produce with the same provenance as our hand-made Yorkshire chocolate, things you can't get at home or that are a real experience to eat. We have sourced a standout wholemeal loaf and white bloomer from Haxby Bakehouse near York, which we serve with traditionally churned artisan butter (we also have delicious gluten-free crackers so no one is excluded!). To go with this we have a selection of Yorkshire and British cheeses, served still in their wax case, rare-breed and free-range Yorkshire meats, locally smoked salmon and chicken, Yorkshire chutneys, pickles, jams and honey, with enough selection that even vegans and other dietary requirements are catered for (try the curried veg pie!). We have refined these into 6 meals which we will cater over the seasons, or you can build your own to create a light personal snack or a miniature feast for family and friends to enjoy! Finished with espresso and chocolates, or some delicious patisserie, it's so good or next step will be wines & spirits, a natural accompaniment to incredible food.
If this sounds tempting to you, plan a trip, and come check out some rare and exclusive produce served in a way to maximize the experience of each morsel. We hope to see you soon!
Ed Hawkins, White Rabbit Chocolatiers.